When I turned 30 in 2019, I took up tennis. I had too many injuries playing basketball over the years (e.g. partial MCL tear, grade 1 and grade 2 ankle sprains, rotator cuff tendinitis) that I decided to switch to a less physical sport. I could have opted for swimming but my 45-minute laps were getting too routine. I wanted a challenge from playing against other people.
Unbeknownst to me, tennis is a very difficult sport to learn. The pros on television sure make the game look so easy. But tennis is a game of technique, timing, and conditioning. It is not a sport that you just pick up in a day or two. Since I am always up for a challenge, I learned tennis as thoroughly and methodically as I can. I took notes, hired a tennis coach, watched tons of paid and free courses.
One important lesson that stood out to me with my tennis journey is that learning is non-linear.
I have always thought that if I put in work every day for X number of days, the graph of my progress would be linear. I get better with the number of days I put in.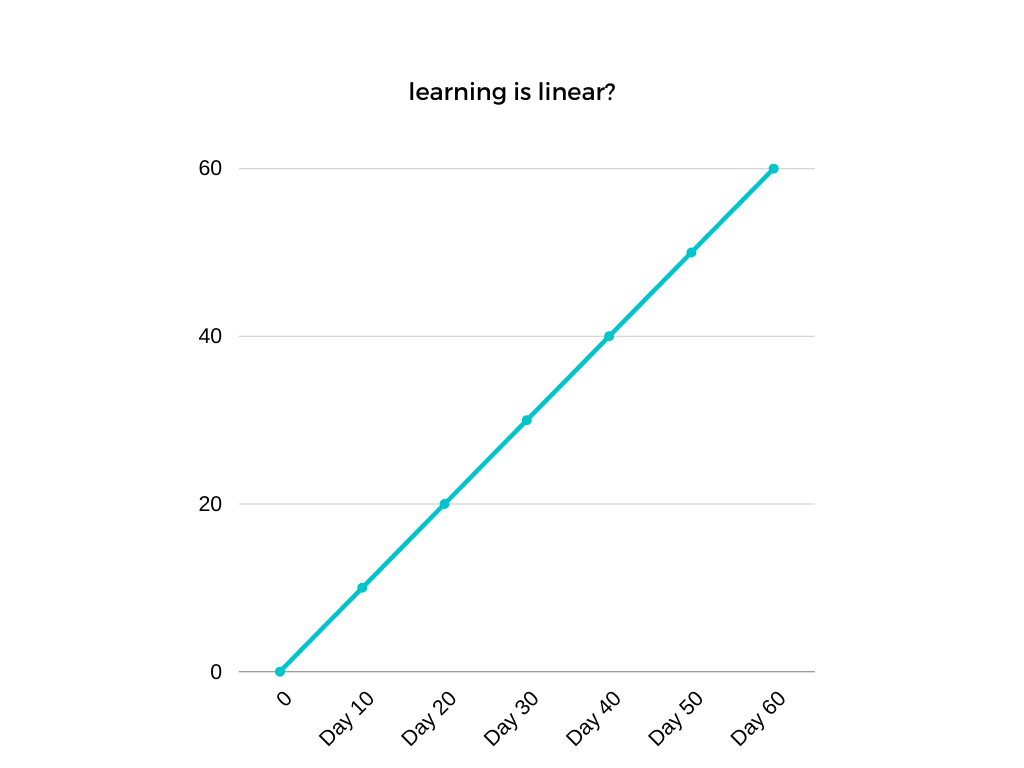 The learning process is actually non-linear. There would be times when I felt like I am finally gaining progress on my forehand or backhand, only to lose the feel for the stroke the next few days or weeks. One week I would be playing great, the next week I would suck. When I was 6 months in the process, I actually thought about quitting because I did not see any progress. I was stagnating no matter how many hours I put in.
Learning is non-linear because the brain needs time to absorb all the information it is presented with. The Coursera course Learning How Learn has more information about the science behind this. It seems like the brain needs to connect the dots and it takes time for it to do so. Furthermore, the brain also benefits from rest.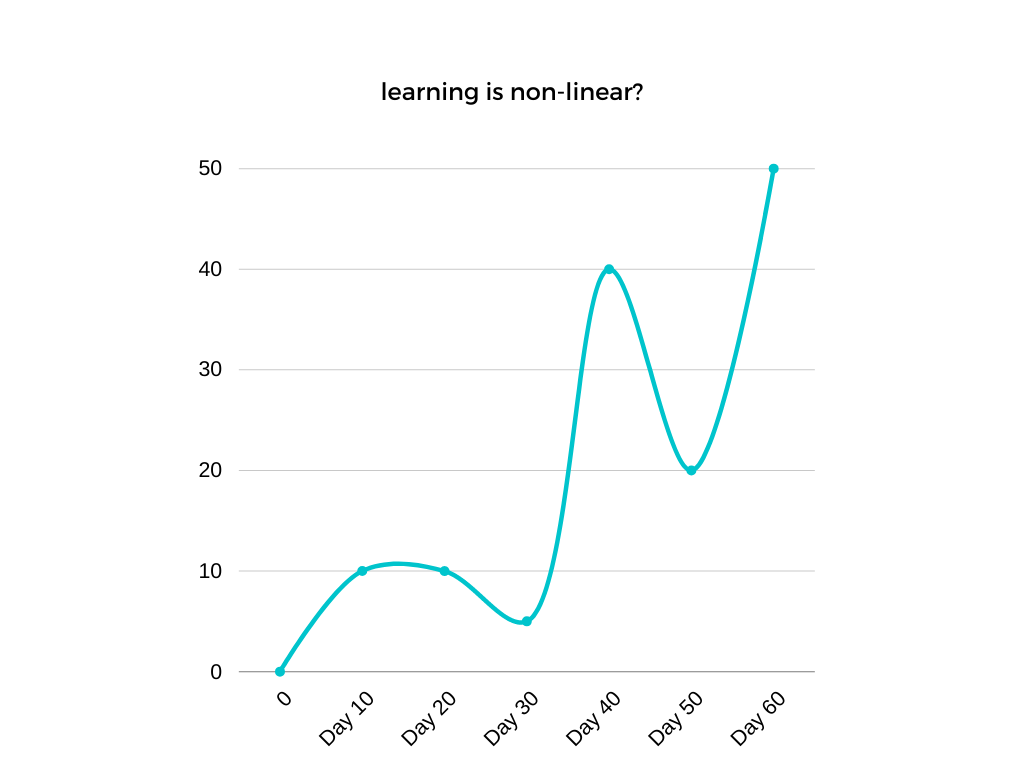 After I took a break from tennis for two-weeks due to minor pain in wrist and fingers, I had noticed something odd. The first 10 minutes was, obviously, a struggle because I had to get my conditioning and feel going. But after that, to my surprise, my forehand and backhand was better even before I took the break. The same thing happened to my serve when I had to rest for a few days because I hurt my shoulder and deltoids from practicing too much. The day I got back from the break, the technique was better.
Learning as a non-linear process is not constrained only in sports. I am now in my second year of playing the guitar, and I have also observed this to be true. For instance, learning the piece River Flows in You by Yiruma has now taken me 2 months to date with little progress. It is frustrating. There are days when my mind and fingers are in sync but there are also days when I feel off and uncoordinated.
From my experience, it seems like the advice of "just put in work and see results" needs a more nuanced approach. Put in work, prepare for a rollercoaster ride, and hang long enough to see results. Oh, and make sure to take breaks! That is learning, folks…